Home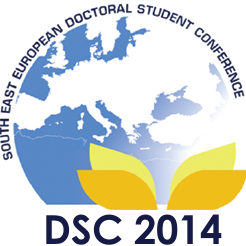 On 25-26 September 2014 our research centre, SEERC organized the 9th South East European Doctoral Student Conference (DSC 2014) with great success. The event took place at the main campus of the University of Sheffield International Faculty in Thessaloniki.
With its programme divided in three thematic areas (Research Tracks), the aim of the conference was to further facilitate the exchange of knowledge between young researchers and to consolidate the established network of scholars currently undertaking research in South East Europe.
Prof. Panayiotis Ketikidis, Chairman of the conference, and Mr Nikos Zaharis, SEERC Director, welcomed all the participants and opened the conference with the keynote speech by Professor David Oglethorpe, Dean of the Management School of The University of Sheffield on "Resisting carbon-mania: Keeping socially-responsible business priorities balanced." During the two-day conference more than 50 papers were presented while two workshops took place, one on "Systematic Literature Review ľ Meta Analysis" presented by Dr. Elissavet Chrysochoou abd Mr. Giorgos Pavlidis, and one on "How to publish in a quality journal" presented by Prof. Panayiotis H. Ketikidis and Dr. Anastasios Karamanos.
The Doctoral Conference brought together researchers and succeeded in establishing collaborative links between disciplines, for testing the ground with innovative ideas and for engaging the wider academic community. All papers presented during the event have been included in the conference's proceedings that has been published in due course.
Best Paper Awards
On behalf of the Programme Committee, the best paper award, is presented to:
Mariana Estrada-Robles for her paper "Examining the dynamics and strategies of entrepreneurial families: Lessons from Mexico"
Adam Popowicz for his paper "Lipschitz cover based image colorization"
Roziya Ibrahim for her paper "Adaptation of tropical urban park management in Kuala Lumpur, Malaysia towards delivering ecologically sustainable landscape practice: Comparing the benefits and challenges"
Luiza Shahbazyan for her paper "The effect of processing demands on hostile attribution bias (HAB)"