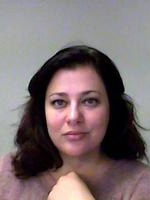 Dr Alexandra Prodromidou
Affiliation: The University of Sheffield International Faculty, CITY College
Dr Prodromidou joined BAED as a Lecturer in 2013. She holds a PhD in Russian Studies from the Centre for Russian and East European Studies, University of Birmingham, UK. She has taught and lectured on Politics and Russian Politics at the University of Birmingham, the University of Leicester and Nottingham Trent University in the UK and as a guest lecturer on Energy Poverty at Panteion University. She currently teaches European Union and International Politics.
Dr Prodromidou is working on a project in Comparative Political Economy between Greece and Turkey and she is part of a wider collaborative network on issues of Political Economy in Greece, Turkey and Spain among the Sheffield Political Economy Research Institute, the International Faculty of the University of Sheffield-City College in Thessaloniki and Sehir University in Istanbul.
She is also working on a joint project with the School of Environment, Education and Development of the University of Manchester and the European Centre for Environmental Research and Training, Panteion University on Energy Poverty and Vulnerability in Greece.
Other current research interests include Russian Energy Policy, EU Energy and Security and Electoral Behavior in Greece.
Dr Prodromidou was the Chair of Committee on Politics, International Relations and Sociology (Research Track 3) at the 9th South East European Doctoral Student Conference which will take place in Thessaloniki on 25-26 September 2014.
Participation in
Research Projects
PhD Supervision
Dr Darja Koturovic: Governmental and non-governmental action against organized crime and drug trafficking in Serbia
Delfin Pllana: Implementation of economic and commercial diplomacy in the Western Balkans – multidisciplinary study of commercial diplomacy policies and practices in Albania and Kosovo.
Publications
Click here to view publications by Dr Alexandra Prodromidou