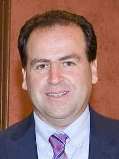 Prof. Panayiotis H. Ketikidis
Chairman of SEERC Management Committee
Affiliation: SEERC
Phone: 0030 2310 253478
Professor Ketikidis is the Vice Principal for Research, Innovation & External Relations of CITY College, University of York Europe Campus, and the Chairman of the Management Committee at the South East European Research Centre (SEERC). He has over 25 years of experience in management, education, research, and competitive research funding with various networks established as a result of this experience. Professor Ketikidis has been listed in the Marquis´s Who´s Who, Publications Board in Science and Engineering, Eleventh Edition 2011-2012.
He is a member of the International Faculty Administration Board of CITY College which provides steer and leadership on the academic and development strategy of the College (1993-present). He was the Head of the Computer Science department of CITY College (1993-2001); Head of Continuing Education (1991-1993) at CITY College; He was also, a Project Leader at Sterling Drug Inc., responsible for all the phases of the Software Development Life Cycle to support Discovery Research at Sterling Drug Incorporation, Philadelphia, PA, U.S.A. (1989-1991); Database Administrator and Systems Analyst at the Hospital of the University of Pennsylvania, U.S.A. (1986-1989), and Research Assistant - Graduate Assistant at West Chester University, U.S.A. (1984-1986).
Professor Ketikidis is the President of the Greek Computer Society (EPY) - Macedonia-Thrace chapter (elected 2008-2010); He has been elected as President of the International Society of Logistics - Chapter Thessaloniki (1999-2005) and from 2006 he is an Emeritus President of the International Society of Logistics; Scientific Advisor of the Management Board for the Association of Information Technology Companies of Northern Greece (SEPVE: 1998-present); Honorable Member of the Exporters' Association of Northern Greece Management Board (SEVE : 2006-present); Member of the Administration Board - Centre for the support of female employment and entrepreneurship ERGANI (2006-present); Member of the Prefecture Board for Enterprise and Vocational Training, Prefecture of Thessaloniki (2007-present); He was for many years an Expert (reviewer) of DG XIII (Telecommunications, Information Industries and Innovation) of the European Commission, and has also been involved in many European Information Technology projects funded by the European Commission (1992 -current).
He is Chief Editor of the International Journal of Innovation & Regional Development (IJIRD), Associate Editor of the International Journal of Logistics Economics and Globalisation (IJLEG), Editorial Board Member of the International Journal of Operational Research (IJOR), European Editor of the International Journal of Enterprise Network Management (IJENM), and a member of organizing and scientific committees in various national /international conferences and workshops.
Participation in
Research Projects
PhD Supervision
Publications
Click here to view publications by Prof. Panayiotis H. Ketikidis